LITTERS/INDIVIDUAL PUPS CURRENTLY AVAILABLE:
In case you are located in one of the following regions you can as well contact our friends who are happy to mediate the purchase of the dogs for your convenience.

If in the U.S. please contact Hans at:

Alpine Safety K-9
Phoenix, AZ
tel: 602 3324 404
email: alpinek9@yahoo.com
http:www.alpineK9.com
Click on the pictures of individual litters to see more details.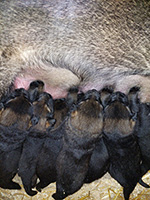 GIORDANO BRUNO Vlci udoli x JAIKA z Jirkova dvora
Litter was born November 19 2022 and there are 2 black sable males, 1 solid black male, 2 black sable females and 1 solid black male available. Puppies are gorgeous, healthy, large with huge heads, strong bones and beautiful dark pigmentation and viability. This litter is done as a combination of 5th and 2nd bloodlines and their pedigree is packed with excellent working dogs. Among the most significant dogs in their pedigree that many were also used in the breeding program of JINOPO belong MOODY, ART, JAGO, LEA, PIKO, FURO, PANTER, JAGUAR,, XANT, ROSA, RENO, XAC, ALEX, TINA, DARGO, CIRA, MAMBO, QUINT, LARRY, ELLUTE, JARO, SONNY. These ancestors are guarantee for strong health, strong nerves and easy trainability of the puppies. Puppies will be suitable for person and family protection and also for law enforcement and sport depending on their future training. They will also be great prospects to be used in the breeding program of strong working dogs.
---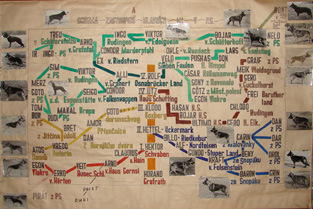 Puppies posted on this website are coming either directly from our breeding program or they are litter picked individuals from litters that come from the breeding of our stud dog to a high quality working female not directly owned by Jinopo.CZ.
We can guarantee to our potential buyers that the puppy they receive is going to be quality individual with strong bones, head, perfect pigmentation and with perfect nerves and overall health.

You can reserve any of the puppies from either of the litters now!
Where to locate us? Click here.

t: +420 724 240 359
Jinopo@Jinopo.CZ
www.Jinopo.CZ

---
EXPECTED LITTERS

Name
Expected due date
XARTTO z Jirkova dvora x GABA spod Sipskej Fatry
December 19 2022
BAZI von Grosspriesen x KORA z Velkooseckych zahrad
December 22 2022
---