LITTERS/INDIVIDUAL PUPS CURRENTLY AVAILABLE:
Click on the pictures of individual litters to see more details.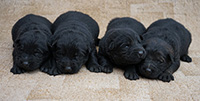 MOODY z Jirkova dvora x ATTA Adnaf
The litter was born November 1 2019 and there are 1 black sable male, 3 solid black males and 3 solid black females available. Puppies are healthy, strong and full of life. The heads of the males will be huge. Overall the puppies will have strong bones and will be excellent especially in protection. The litter is done as an intraline breeding between 2nd and 5th bloodlines namely between the branches of former DDR.
---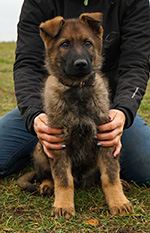 FANT z Jirkova dvora x HERRA Nokafi
LOBO Nokafi, DOB September 8 2019. LOBO is a litter picked puppy that was selected for his looks and temperament. He is a large strong male with balanced temperament and strong head. He is interested in working with people. LOBO has clear head. We expect LOBO to be large size male suitable for personal and family protection. He also has potential to be trained as a law enforcement dog.
---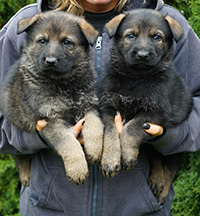 FANT z Jirkova dvora x DARRA z Labskeho privozu
Litter was born October 11 2019 and there are 3 black sable females available. Puppies are gorgeous, black sable with strong heads, strong bones and are very vital. This is a breeding done within the frame of 2nd bloodline. Among more significant dog in their pedigree belong MOODY, ART, BADY, PIKO, FURO, PANTER, VITO, TOM, IBON, KERY, ERDO a NORBO. These ancestors are quarantee for strong health, strong nerves and easy trainability of the pups. Puppies are suitable for personal and family protection as well as for law enforcement use. They will also be great prospects for production of strong working dogs.
---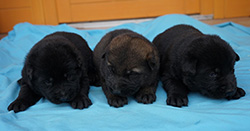 Cadet z Jirkova dvora x Ebbzy z Jirkova dvora litter. The litter was born October 13 2019 and there are 2 solid black females and 1 black sable female available. Puppies are strong with large heads and strong bones and dark pigmentation. This litter was bred within the frame of 4th bloodline with medium level of in line breeding on RENO Jipo ME and then XAC z Pohranicni straze. Among other significant dogs in the pedigree belong PLUTO z Pohranicni straze, CHULIGAN z Pohranicni straze, PARD z Jirkova dvora and QVANTO Jipo Me. This pedigree make puppies to be great prospects for quality. Females will be strong, healthy with versatile trainability. They will be also suitable for future use in breeding program to produce healthy working dogs. They will also be suitable as family and property protection dog and also as law enforcement dogs.
---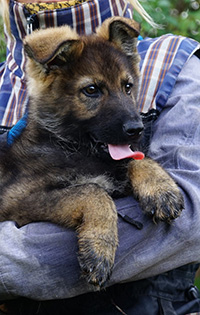 VIDEO: click here
A'Bruno pod Blanikem x GRACIE z Labskeho privozu, titled ZVV2, showed: excellent, elbows/hips: 0/0, DNA tested, surveyed 1st class selective breed 5JV1/P
The litter was born July 30 2019 and there is 1 black sable female available. The litter is done within the frame of 2nd blooline. Puppies are active, healthy with very nice conformations. Puppies are naturally interested in everythign. The expected future use of the puppies is for law enforcement and family protection. They can also be used for the production of healthy working dogs.
---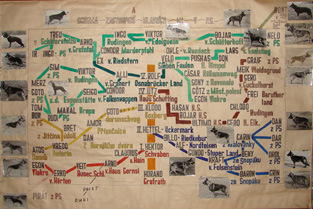 Puppies posted on this website are coming either directly from our breeding program or they are litter picked individuals from litters that come from the breeding of our stud dog to a high quality working female not directly owned by Jinopo.CZ.
We can guarantee to our potential buyers that the puppy they receive is going to be quality individual with strong bones, head, perfect pigmentation and with perfect nerves and overall health.

You can reserve any of the puppies from either of the litters now!
Where to locate us? Click here.

t: +420 724 240 359
f: +420 315 629 714
Jinopo@Jinopo.CZ
www.Jinopo.CZ

---
EXPECTED LITTERS

Name
Expected due date
FANT z Jirkova dvora x DARRA z Labskeho privozu
October 12 2019
CADET z Jirkova dvora x EBBZY z Jirkova dvora
October 14 2019
ZAKO MAX z Jirkova dvora x LANNA z Jirkova dvora
October 28 2019
---